WHEELCHAIR VAN TRANSPORTATION
AC MEDTRAN IS READY TO TAKE YOU WHERE YOU NEED TO GO AND TEND TO ANY TRANSPORTATION NEEDS YOU MAY HAVE IN AND AROUND CHICAGO. WHETHER YOU'RE REQUIRE WHEELCHAIR OR YOU HAVE A REDUCED LEVEL OF MOBILITY, YOU CAN COUNT ON THE NEAREST CHICAGO MEDICAL TRANSPORTATION COMPANY TO TAKE YOU WHERE YOU NEED/WANT TO GO.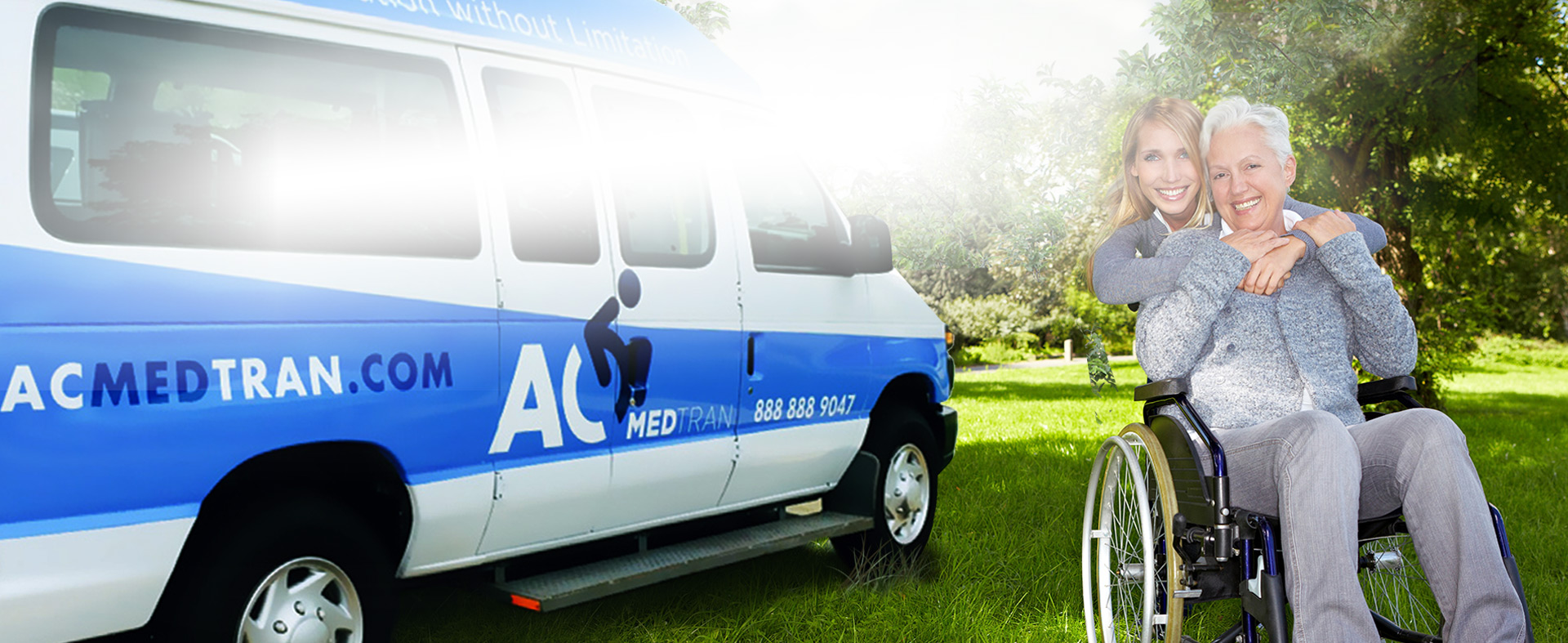 If a question "Where can I rent a wheelchair accessible van near me in Chicago?" plagues your mind, give AC MedTran's amazing team a chance to take you for a ride. Whether you're looking for accessible transportation from one point to another while on North Shore or any other Chicago's various suburbs, this team will have your back. All in need of a Chicago medicar transfer can rely on us when it comes to safe rides, no matter how challenging your medical needs are.
Why Should I Choose AC Medtran Ambulette Service Nearby?
Because you want to get to your desired destination with no fuss and on time, naturally. Being punctual is never a bad thing, but it's particularly crucial when you have a business meeting, doctor's appointment, or airport transfer on your agenda. AC MedTran provides the best solutions for customers with special needs, on their way Chicago O'Hare International (ORD), Chicago Midway (MDW) or any other airport in the area. The same goes for social events, support meetings, shopping, dining or any other special event you want to attend. You don't have to worry if there are several passengers using wheelchairs as the closest accessible van rental service in Chicago is able to accommodate any group size and family members are also welcome on board.
De mest almindelige bivirkninger ved behandling med PDE5-hæmmere omfatter hovedpine, rødme af huden på ansigt og overkrop og næsebelastning. Din læge vil informere dig om mulige bivirkninger. Læs også om dem her http://danmarkpotenspiller.com/kob-viagra-piller.html
How to Get a Medicar Transportation Service near My Location?
It's much simpler than you may think. All you have to do is call 847 792 1212, or fill out this short form. One of AC's helpful customer service representatives will talk over all aspects of any medical van transfer service booking close to me. This team has been catering to all transportation needs of senior citizens and disabled vets and other people who require any kind of assistance when traveling, and they'll utilize their knowledge and experience whenever you face a logistical difficulty.
What About Wheelchair Friendly Cars Themselves?
Be certain that AC MedTran's vehicles are fully equipped and adjusted to customers using wheelchairs. No matter if your wheelchair is manual or electric if it is foldable or non-foldable, AC's chauffeurs are fully prepared to handle it properly. You will always have a safe and comfortable journey with us. Why? Because this team strives to provide enjoyable accessible van transportation services near Chicago to everyone who needs them.